---


Reducing plastics in our packaging
Transitioning to wrap around boxes for all 6-packs.
Eliminating trail beer can wrap-arounds.
PakTech recycling for the community at all our pubs.
Eliminating plastic straws at all pub locations.
Installed refillable bulk tanks for most of the high volume chemicals and recycle all plastic pails and drums for chemicals that are not in bulk tanks.
Responsible management of all production by-products
Recycling all plastic (e.g. nylon malt bags, banding, shrink wrap, keg caps) within the US.
Recycling wood pallets, aluminum cans, glass bottles and cardboard.
Spent grain collect as animal feed.
Periodic waste audits to continuously provide feedback to employees to improve landfill diversion.
Other ways we reduce waste
Most of our large volume chemicals are in refillable bulk tanks.

Any drums we receive are returned to the vendor for recycling.
Liquor totes are reused.

Eliminated single use coffee cups in breakrooms. This waste stream was identified during our 2018 waste audit.
Pak-Tec holders were replaced by cardboard wrap around boxes for all production beers.
Each pub is a Pak-Tec recycling drop off site.
Elimination of the plastic sleeves on Trail Beer cans.
5S implementation (housekeeping) that will organize supplies to avoid over purchasing or wasting raw materials.
---
WATER
Conservation
We held a water conservation kaizen event in 2018 to identify water conservation opportunities. Since that conference we have done the following improvements:
Reduced the number of acid vessel cleanings in the brewhouse.
Optimized the rinse cycle on the KHS keg line to reduce the amount of rinsing.
Optimized can rinsers.
Finalized pasteurizer boil out procedures and safety requirements to empty and refill the pasteurizer quarterly instead of every week.
Captured two sources of condensate that were going to drain back to our boiler.
Optimized the centrifuge water intake.
Installed a sub-water meter for packaging to monitoring production specific water consumption.
Eliminated the clean steam skid to conserve steam usage by using plant steam (gas reduction).
Future projects and opportunities
Piping the condensate pipe by the brewhouse chillers so that it returns instead of allowing it to dump on the ground.
Piping the high strength drain out of the centrifuge to the high strength tank rather than down the drain.
Powers of Automation – looking at adjusting the programming
Fix the can rinser tank – there is no shut off like the bottle rinser tank to make it shut off when it gets to a certain level which allows it to constantly overflow when we are canning.
Re-validate the can line.
Regular reporting on water consumption/waste water discharge to recognize if there are leaks (e.g. the boiler solenoids) or people wasting water.
Optimize CIP processes for the cellar with ChemStation.
Wastewater system upgrade in 2018.

Reduced chemical consumption by correcting pH monitoring system.
Sub-meter installation to monitor discharge to better identify leaks or misuse.
Adjusted pH range according to City of Bend recommendations from 6 to 9 to 5 to 10 which drastically reduced our chemical consumption of 50% sodium hydroxide and 93% sulfuric acid.
---
ENERGY & NATURAL GAS
Conservation
Energy sources have been tracked each month to indicate leaks or overuse.
Worked with Energy Trust of Oregon to replace fluorescent bulbs in the brewhouse with LED lights.
Replaced plastic curtains on cooler doors with high speed doors.
Replaced old Parker Boiler with high efficiency Miura boiler.
Packaging area lights are on a timed-motion sensors to conserve electricity when no one is in the packaging/warehouse/logistics areas.
Other areas like the sour room and lower mill room, are also on timed-motion sensor lights.
Elimination of the clean steam skid for the racking line and to conserve steam usage by using plant steam (gas reduction)
Future improvements and opportunities
Construction of a new cooler

We are evaluating with Energy Trust of Oregon for the high speed door(s).
We are evaluating with Energy Trust of Oregon to see if incorporating passive cooling is a possibility.
The cooler height should be as low as possible to avoid cooling "dead" space.
Renewable Electricity
1,026 panels.
Reducing annual emission by 365 metric tons.
Generating >500,000 kwh per year as designed (might be higher, but need to look at a year's worth of data).
Should account for 25% of our electrical footprint.
Future Projects

Direct Access Renewables: If this goes forward, we will be on 100% renewable electricity.

---
FUTURE PUB PROJECTS
Renewable Electricity
Changing to direct access renewable energy in November for Oregon locations. This is the same process as for the brewery. This would allow our three brewpub locations in Oregon to be 100% renewable.
---
Community Stewardship
Our local communities are one of our greatest assets and supporting them is a core value at 10 Barrel. Here is a recap of a few ways in 2019 that we gave back to our communities.
Giving Back
We have raised over half a million dollars to date for local charities in Bend, Boise, and Portland through our "Drink it Forward" program. Click HERE for more info.
10 Barrel also provides beer to certain non profits through requests submitted on our website. For more info, click HERE.
Protecting the places we love
We love where play, so we decided to give back 1% of all profits on 3 of our flagship beers to organizations who protect the outdoors.


Local non-profit partnerships


Community Projects
Fishing line recycling container installation on the Crooked River. (Shown below)
Fishing line recycling containers installation and bottle/can recycling container installation at Newberry Crater. (project pending)
Water bottle refilling station installation at Riverbend Park. (project pending)
Ocean Friendly Restaurants. (project pending)
Brewhouse garden. (project pending)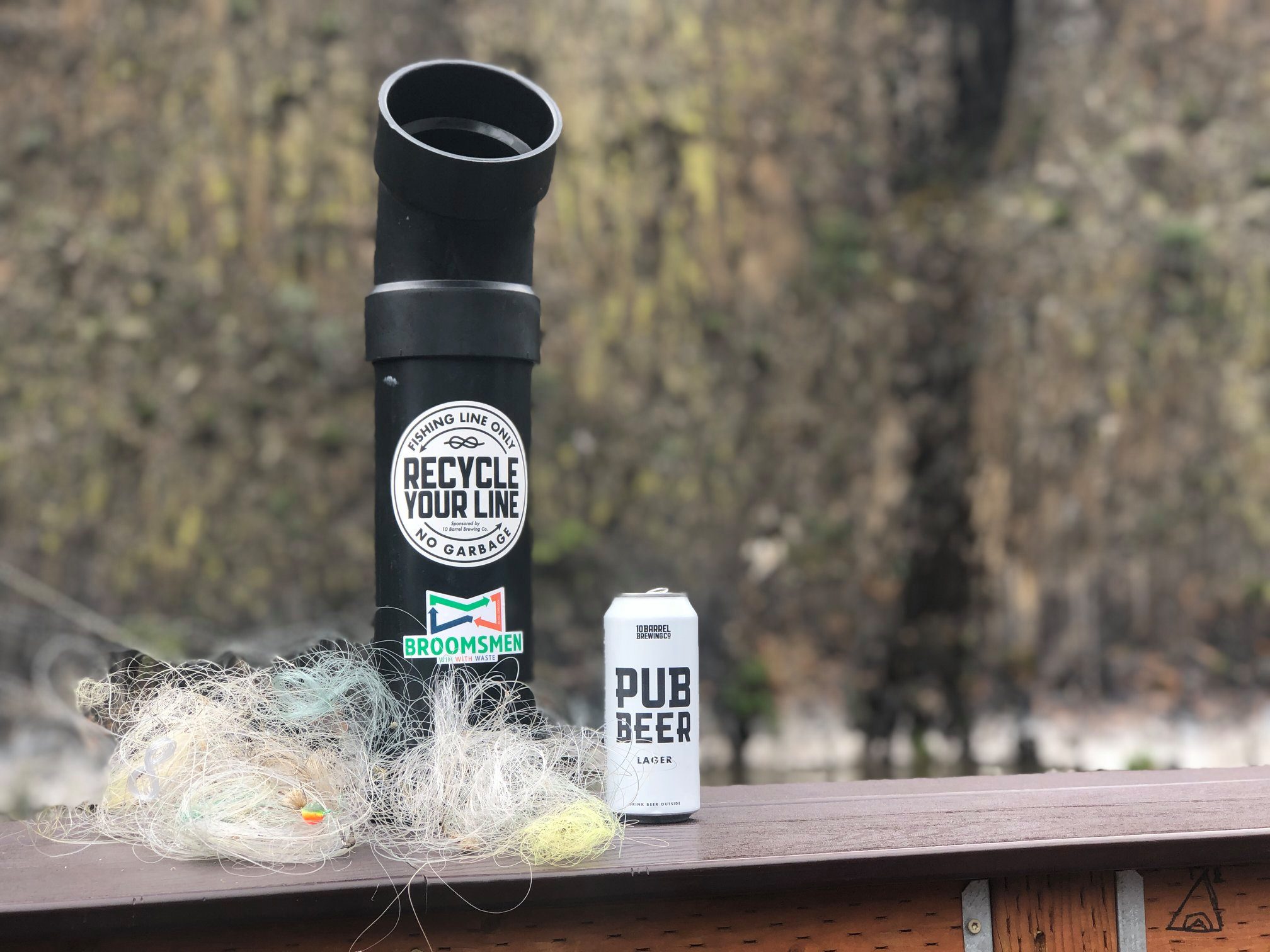 Now come drink some beer with us!
Visit Us