Now on tap: Big Air & Cold Beer!
The 2017 Hella Big Air went down at Mt. Bachelor this last weekend, where an 85 foot rocket launcher was ready for 40 riders and skiers to unleash their bag of tricks for a shot at a piece of the 30K prize purse. The day got off to a sunny start… but seeing as how Mt. Bachelor has been breaking snowfall records this year with 500″ already this season, it wasn't surprising when the skies quickly switched to clouds with sporadic snow showers followed by pockets of sunshine. The athletes kept the show rolling while chasing weather windows throwing down enough spins and flips to make you think you might have had one to many beers…
Big Air? Nope… HELLA BIG AIR!
Meanwhile in front of the main lodge the "Snow Beach" style beer garden crowd rocked out to DJ Flip Flop while enjoying some 10 Barrel beers and playing lawn games. The upper beer garden right off the deck of the jump gave viewers a unique perspective as rider's practically sent it over the cheering crowd that was enjoying beer poured from the new and improved Minipub!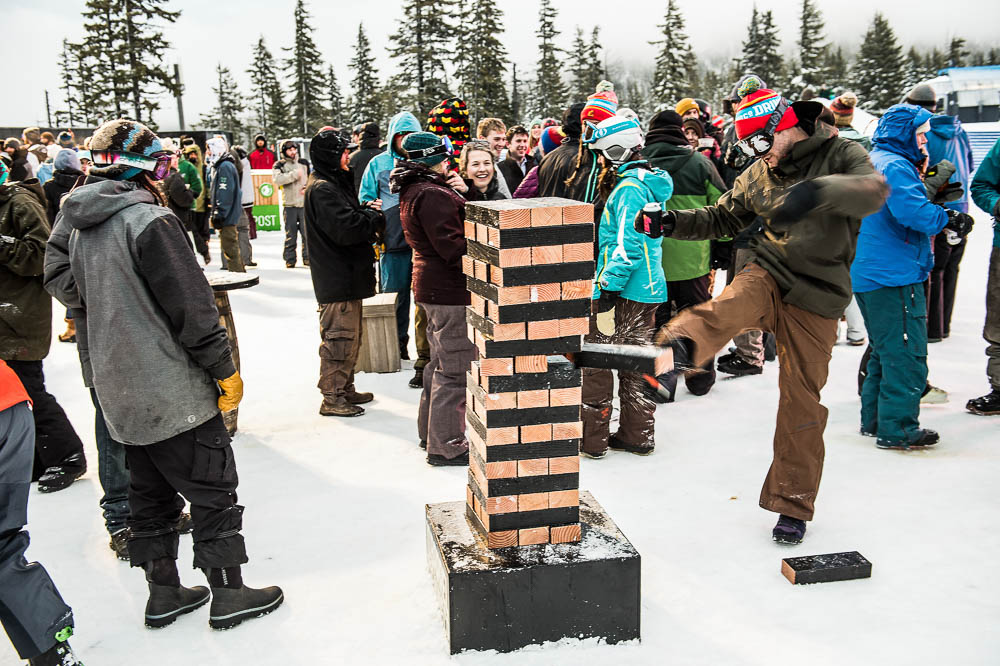 That's some mighty fine Jengaing son. Wapow!
Girls + Beer is always a winning combo. (PS – Someone please feed Ashley.)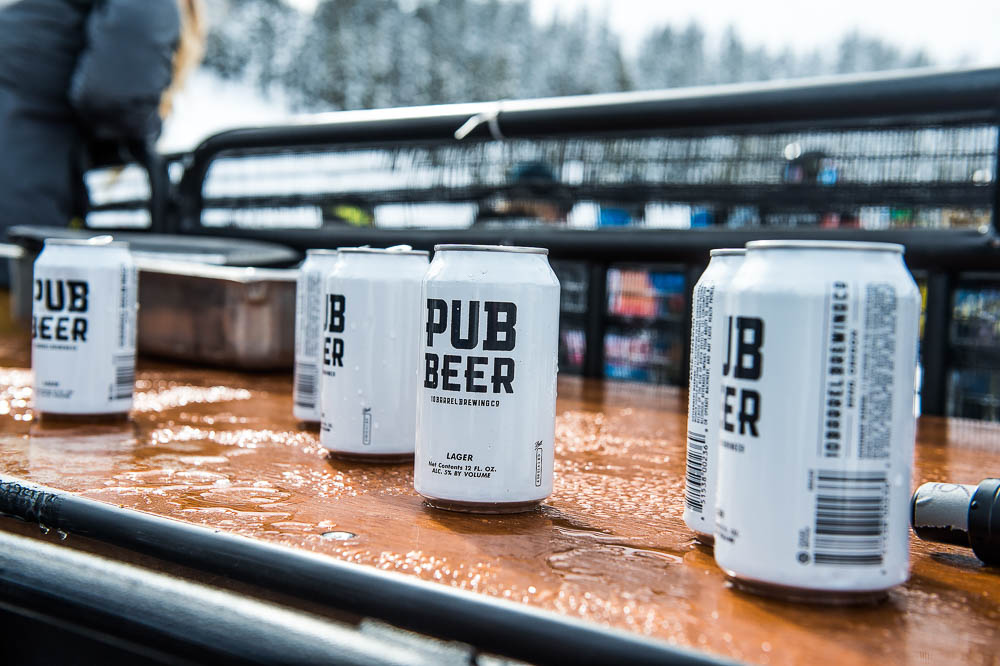 Yeah, we love Pub Beer. Don't judge us! (The judges table was well stocked)
Bend knows; the louder you cheer, the bigger the riders send it.
Weird weather ain't gonna bring us down.
During the short recess between qualifiers and finals a quick snow shower dropped enough flakes to slow down the drop in to the point that the jump was no longer safe to hit. It was a tough call to make, but riders safety comes first for us and it was decided to cancel finals and use the earlier runs to pick the winners. Luckily, Lyrics Born was down to party on stage early and jammed out tunes for the crowd as the sun set over the Oregon Cascades.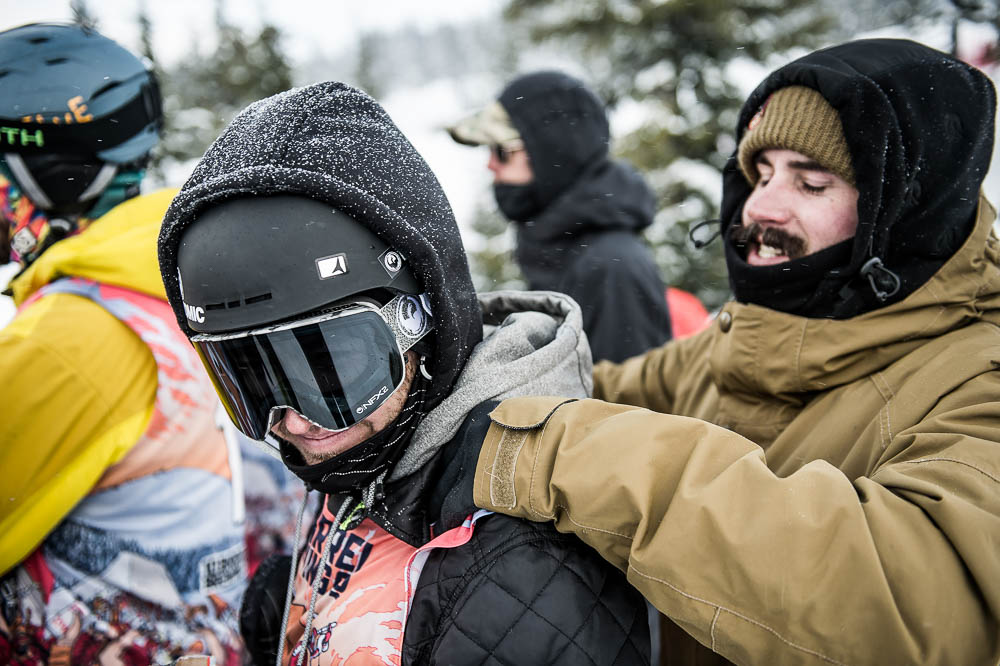 Jeff's all about easing the tension baby, just easing the tension.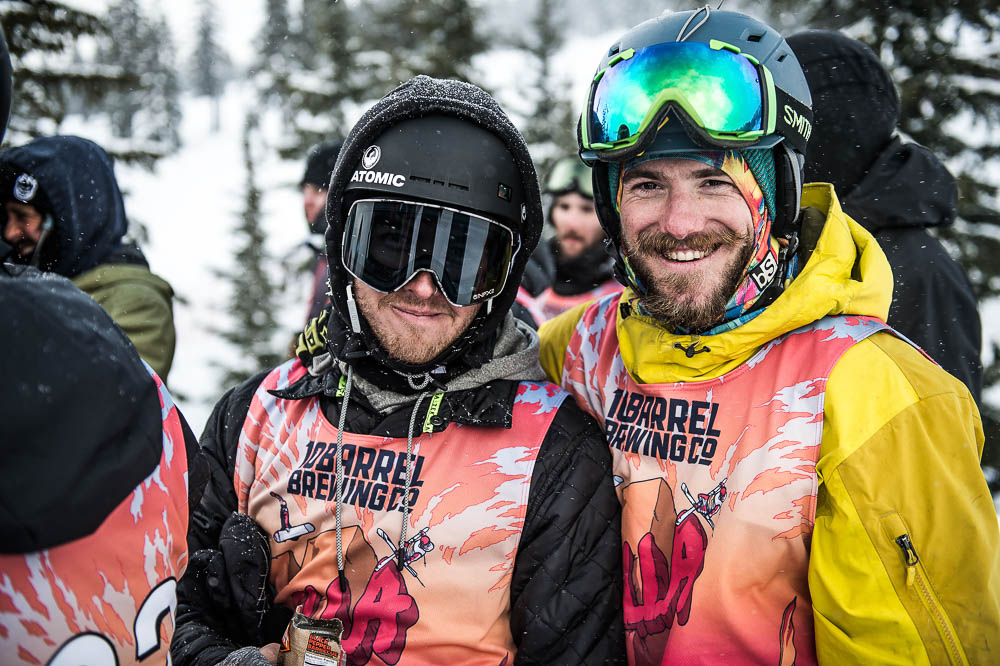 Staying stoked, despite some weird weather.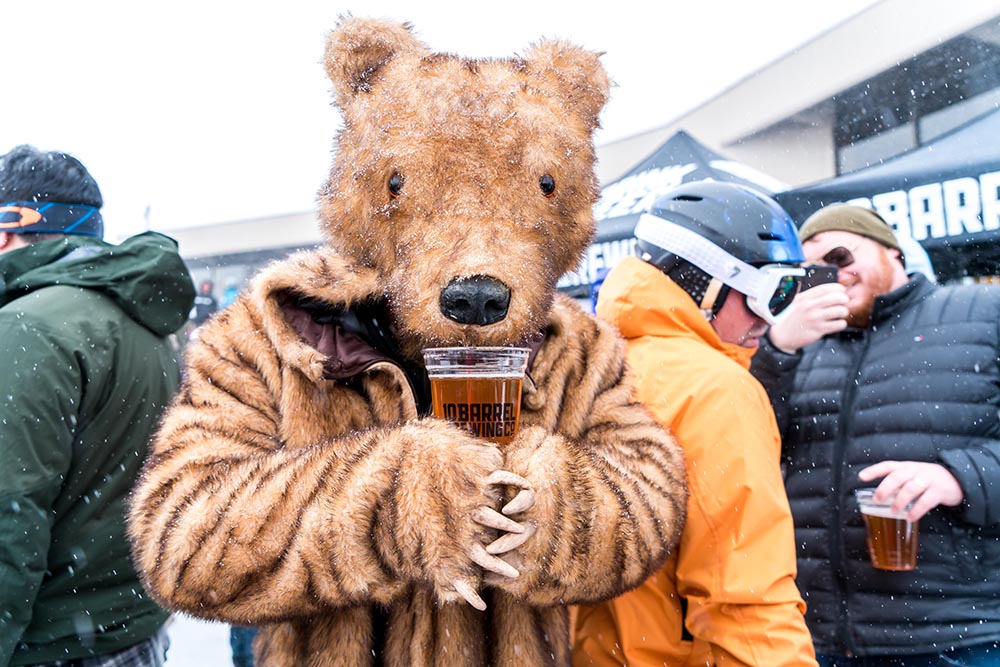 Beary happy about this beer.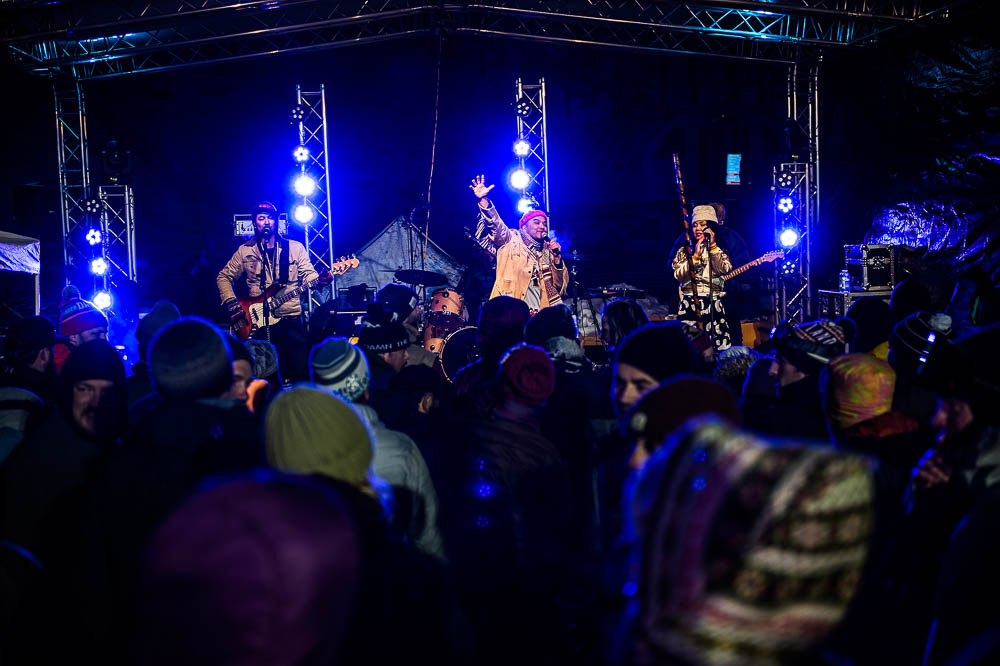 Lyrics Born!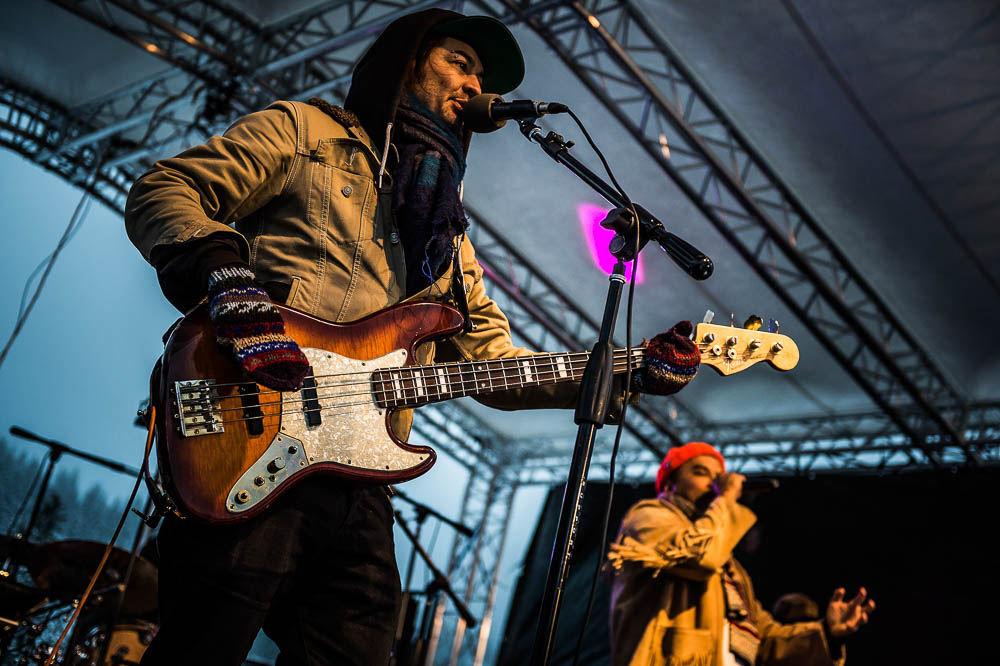 Concert's are always more fun at 6,000 ft.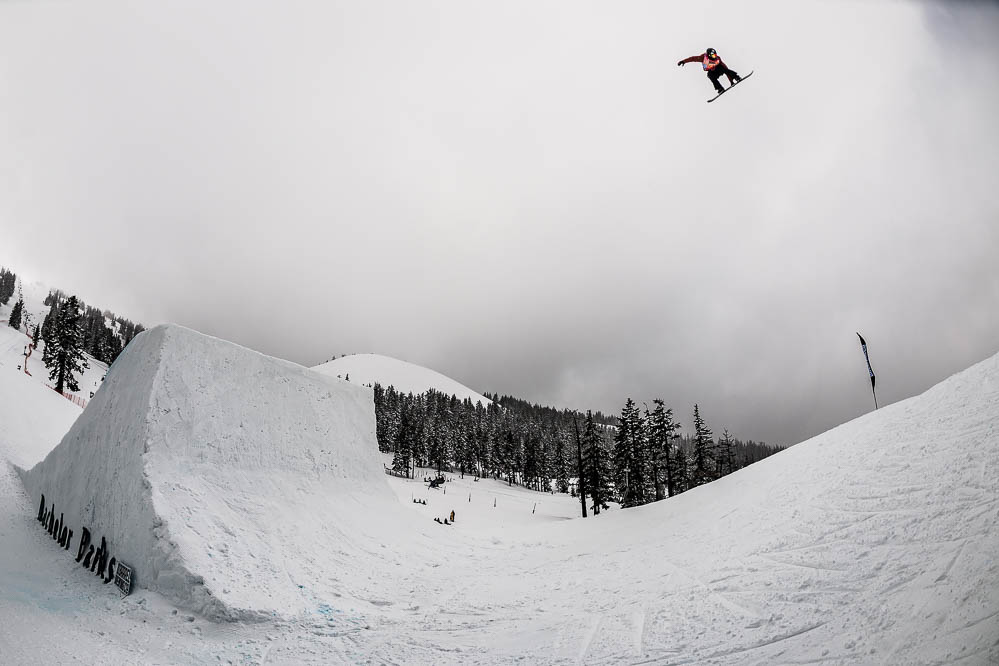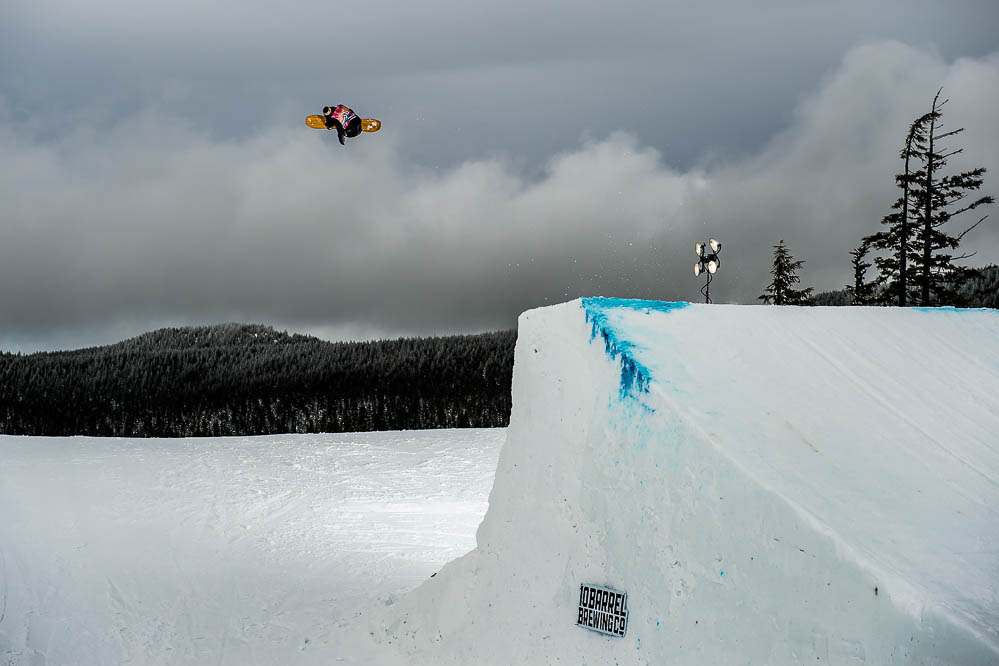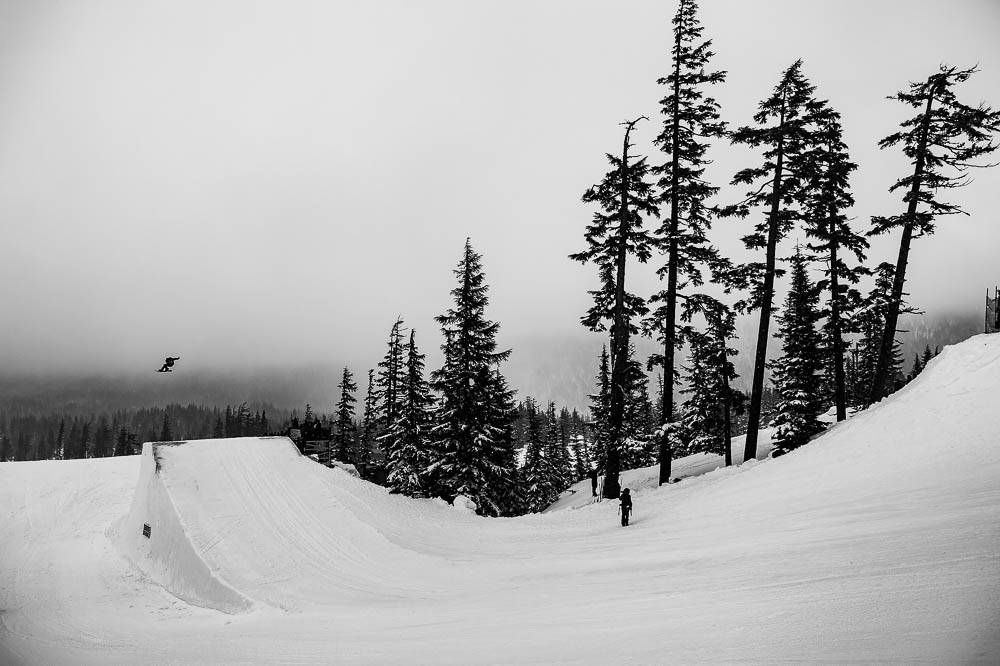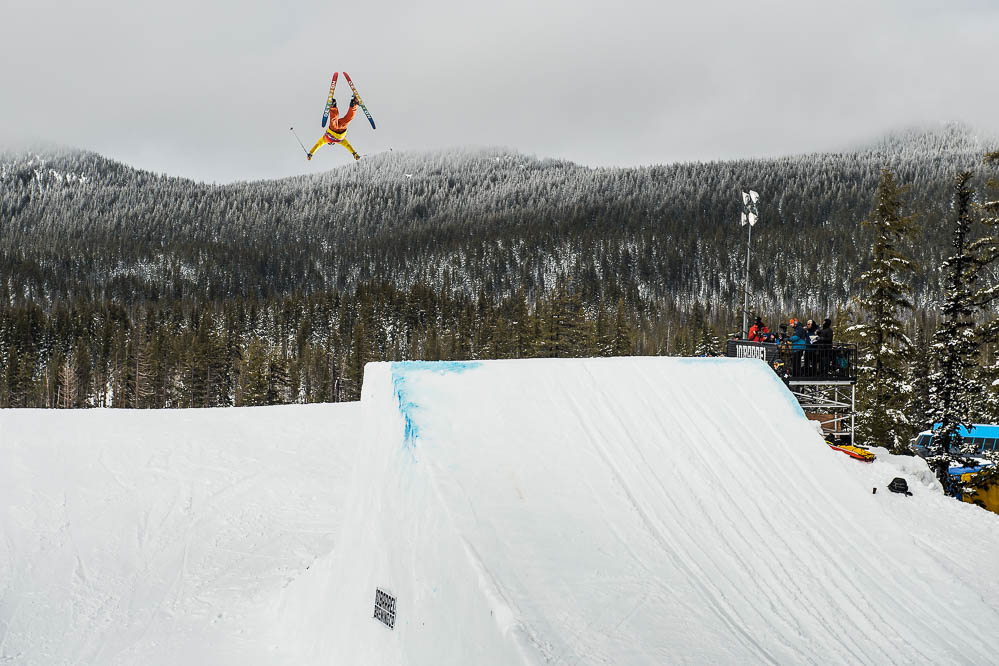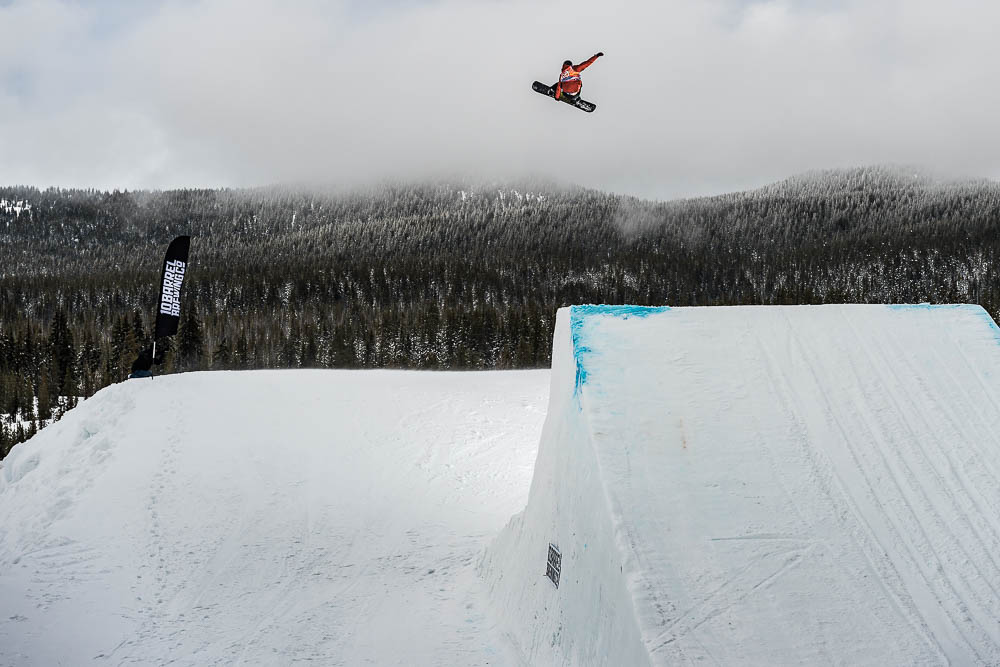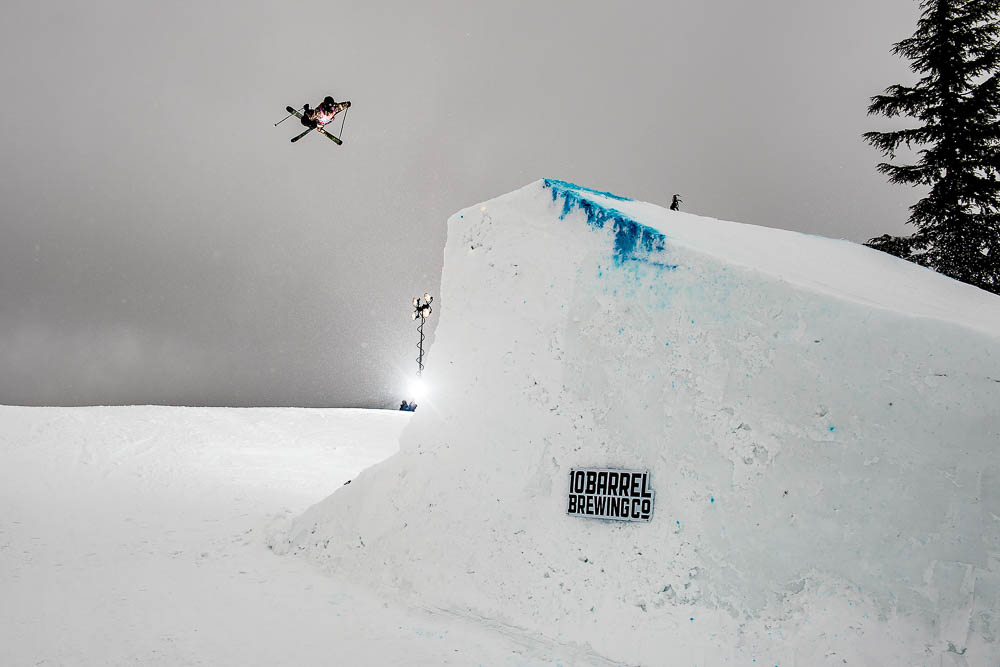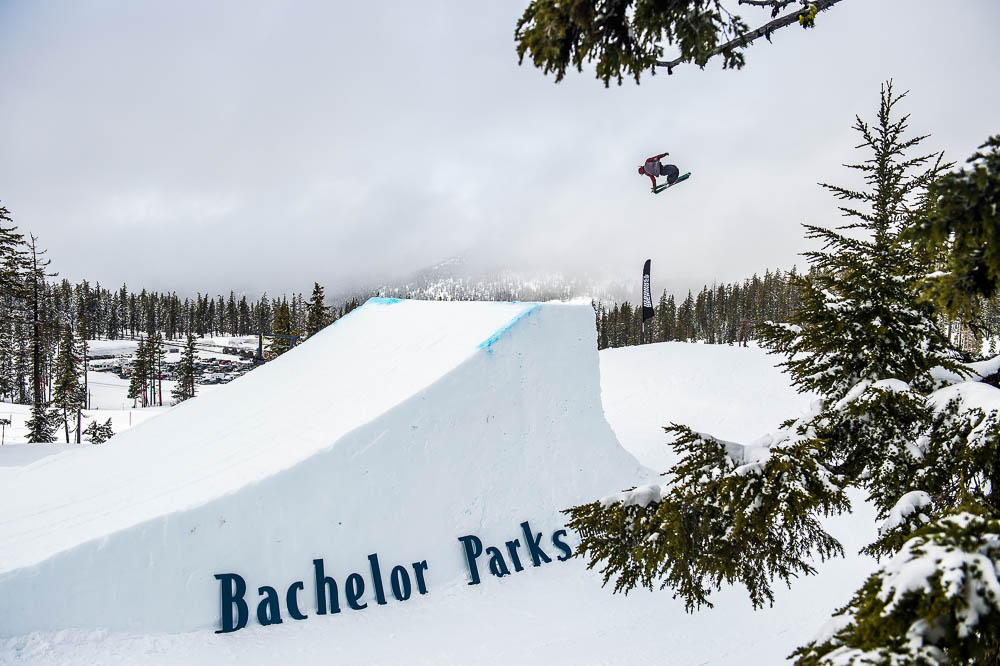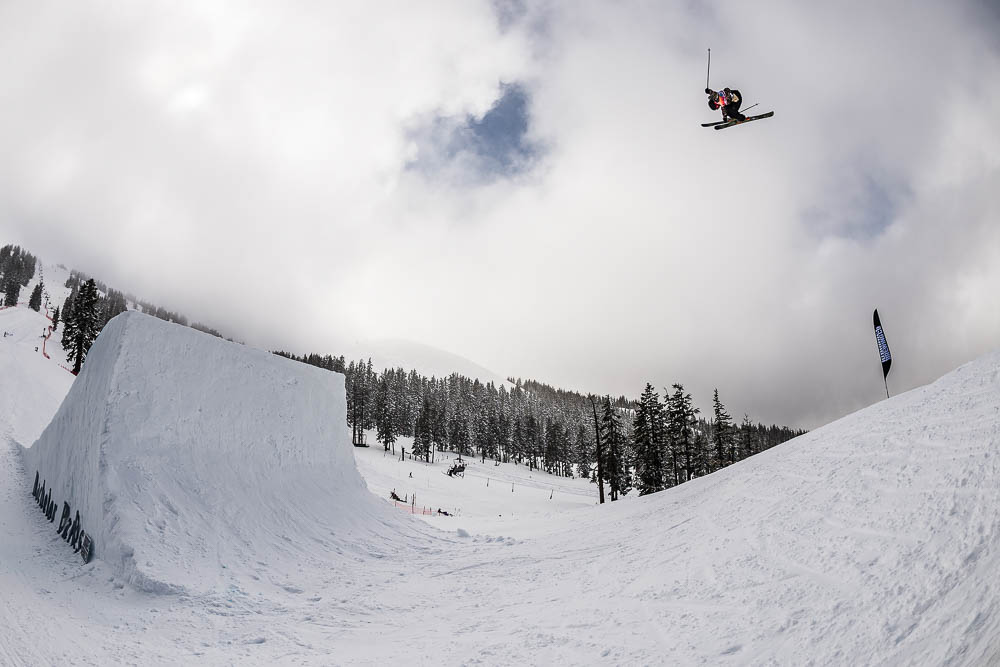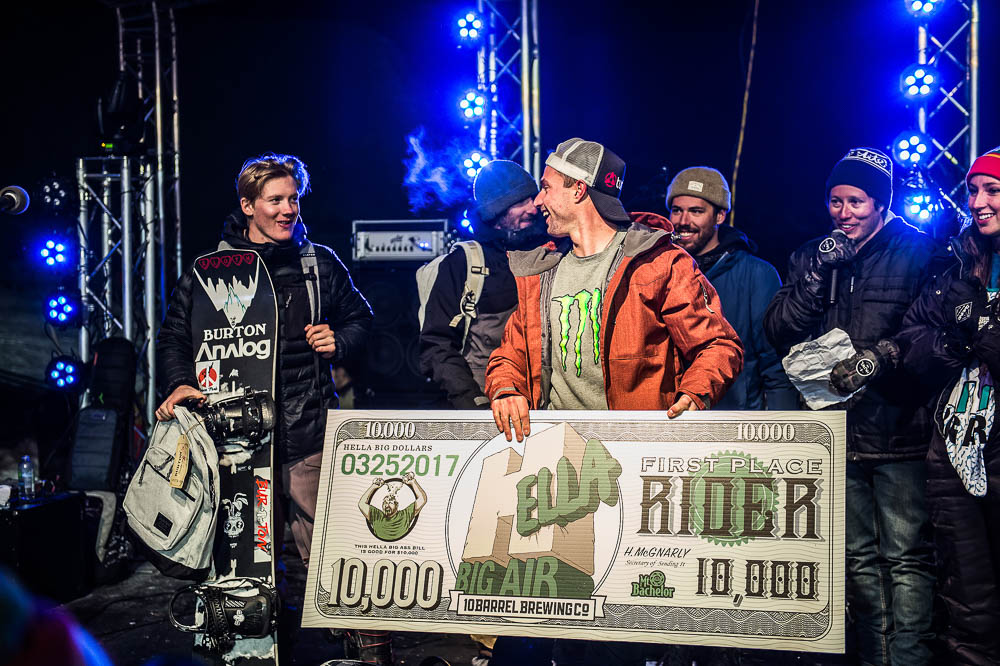 He likes big checks and he cannot lie.
10,000 reasons to smile.
Winner Winner Beers for dinner!
Justin Morgan threw down enough gnarly senders to take home $10,000 for the top prize for the snowboarder's, and Nick Keefer's stylish airs landed him on a nice 10k payday in the skiers division. Needless to say, they'll be buying their friend's beer for awhile!
Snowboard Finalists:
1st  – Justin Morgan
2nd – Ryan Linnert
3rd – Dru Brownrigg
Ski Finalists:
1st – Nick Keefer
2nd – Jake Mageau
From all of us here at 10 Barrel Brewing, we want to give a big ol' Central Oregon sized thank you to the amazing athlete's who came out to Bend and threw down, also the crowd for drinking hard and cheering even harder, Mt. Bachelor and the parks crew for building an epic jump, and everyone else who helped bring another Hella Big Air to life. Cheers!
Photos by: Darcy Bacha
Video Edits by: Pete Alport
More Posts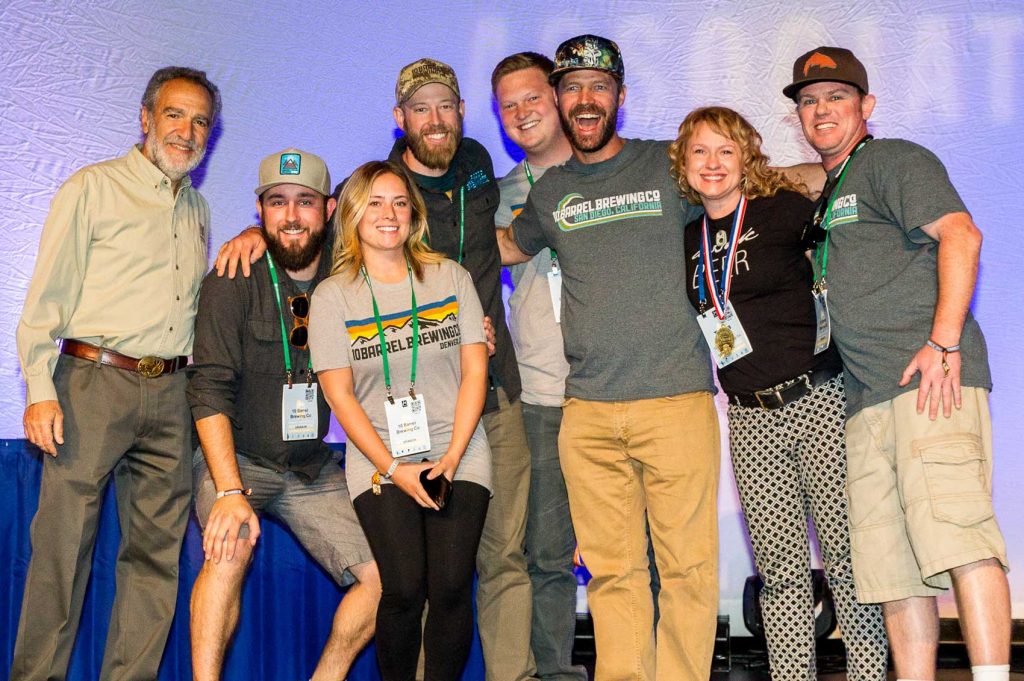 Oct 12, 2016
10 Barrel goes Gold at GABF!
SHAWN KELSO'S P2P TAKES A GOLD AT GABF. Once a year hundreds of breweries gather to Denver, Colorado for the Great American Beer Festival. GABF represents the largest collection of U.S. beer ever served in a public tasting event. GABF was founded in 1982 and has been expanding with the craft brewing industry ever since. Last […]
Read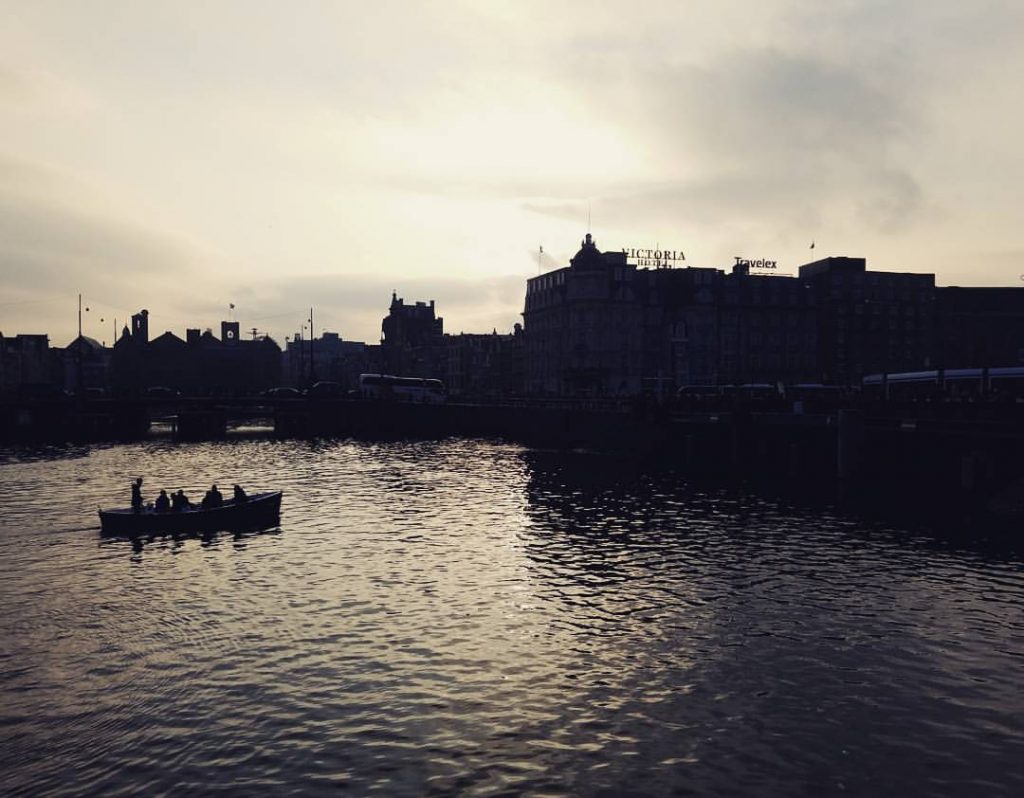 Oct 25, 2016
Whitney goes to Europe!
A couple weeks back our Portland Brewmaster, Whitney Burnside headed to Munich to be a judge in the European Beer Star competition. It has long been one of the most important beer competitions in the world! Any brewery in the world can take part: breweries with local, regional, interregional and international operations are eligible, not only […]
Read